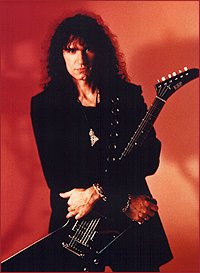 The show is set and the tickets are selling to the BIGGEST Farewell Tour Party in the US! And it's right here in the middle of the country.
Sunday, August 27th from 5p-10p, at South Sokol Hall, 2021 U St
Come witness the spectacle that is the
"Farewell Tour Y2KISS Party"!
Tickets are $10.00 and are available at Hooters in Omaha, JD Music, McGill Travel in Council Bluffs and all 5 Sam Goody/Musicland locations in Omaha and Council Bluffs.
Support our sponsors!!!
Highlights include:
Bruce Kulick Q & A, autographs and photos, on stage
with Omaha's own KAO (KISS Army Omaha) Band featuring
Jackson Christian, Scott Murphy and Jeff Peck.

Peter Criss' "Alive" Tour drum set on display - have
your photo taken in Peter's place!

Local Rockers 3 Day Meat Sale and OX 45 opening the
show (you don't want to miss these bands)
Vendors on hand:
Hooters Restaurant will have their famous food and the
world famous Hooters Girls!!! As well as T-shirts,
calendars etc..

Sam Goody will have KISS CD's and merchandise for
sale!
(perfect for Bruce to sign)

Lynette Lynch will have her famous Big face air
brushed T-shirts available (including some limited
edition Bruce Kulick shirts).

Peter Criss and Eric Singer signature drum sticks from
JD Music will be on hand.

McGill Travel - Official travel agent for KISS Army
Omaha and Bruce Kulick (when he's coming to Omaha)
will be there with info for your next vacation.
Other Goodies:
Secondary Emission will be filming for some episodes

Omaha Weekly will have ads and an interview with Bruce
Kulick in the next couple weeks.

The KAO Band will be on Z-92's Todd & Tyler show at
9:30am on Friday August 25th.

Slam Omaha has a banner and info and is giving 5 pairs
of tickets to this on their website.

Door prizes donated by Spencer Gifts, KISS Army Omaha
and JD Music will be given away via raffle tickets
that can be purchased for $1.00 at the Party. The
proceeds will go to the Eric Carr Foundation for cancer
research. The big door prize is an electric guitar
donated by JD Music and autographed by Bruce - in
front of the winner!
Don't miss the chance to say farewell to the Hottest
Band in the Land in style!! Be THERE!!!
Thanks to these sponsors for believing!
McGill Travel
Copyright © 2000 KISS Army Omaha
Neither KISS nor Mercury Records support or endorse this site.
All logos remain copyright of their respective owners.